Yesterday morning #NOLAChefsAid was featured in the weekly newsletter from Louisiana Kitchen & Culture Magazine.
Many thanks to Susan Ford for featuring the event!
The text of the newsletter follows…
+++
Not surprisingly, food has always been a big deal in my family; and the same is true in my husband's family. His mother was first-generation Italian and, like my parents, raised livestock and tended a large kitchen garden. She was a great Italian cook and luckily, she gave me some of the family's favorite recipes several years ago. She passed away peacefully Wednesday, the four-year anniversary of my own mother's death. I've included her meatball recipe below; her grandsons Chris and Vince thought all was right with the world when they had a good stash of Nana's meatballs in the freezer.
In addition to asking you to give gift subscriptions to the magazine, I'm asking you to give to the victims of the Super Typhoon that swept through the Philippines last month. My friend Nina Camacho's family was directly affected — here in the Gulf Coast region we know all too well what it's like to have everything swept away.
On December 16, some of Louisiana's finest chefs are coming together for NOLA Chef's Aid for the Philippines at the Hilton Riverside New Orleans (click here to reserve a room for the evening).
Honorary co-chairs who will be at the VIP reception in advance of general admission include the venerable Leah Chase, New Orleans' Mayor Mitch Landrieu, and legendary Louisiana native James Carville. Co-chairs for the event include Ralph Brennan, Tenney Flynn, and Frank Brigtsen.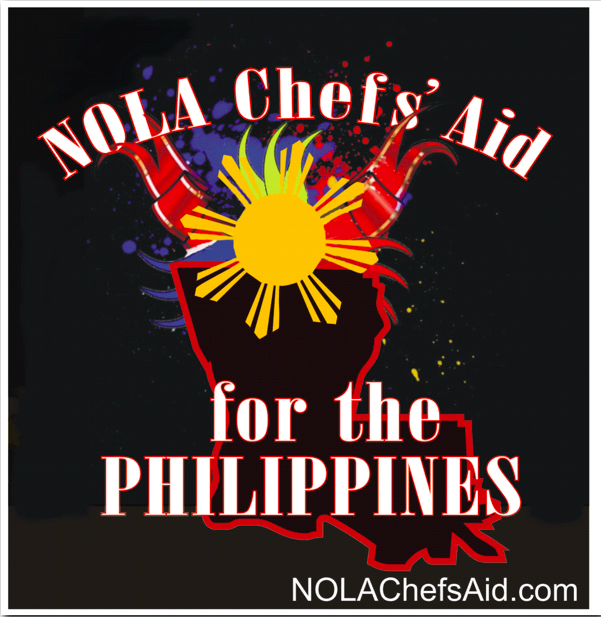 Early bird tickets are on sale now at $100 for the VIP reception beginning at 5:30 (general admission is $50, doors open at 6:30). Tickets are $125 and $75 at the door, so get your tickets today and save.
There will be a silent auction that evening, with a wide vareity to bid on. NOTE: if you have something you'd like to donate to the auction, please use this link to email me details.
The American Culinary Federation of New Orleans will donate all proceeds from the evening directly to charities in the Philippines working to help victims rebuild. If you cannot attend, please consider a $10 (or larger) donation.
Enjoy this week's recipes, share them with family and friends, and, as always, let me know what's on your mind. Also, keep in mind that food banks struggle this time of year; consider making a donation if at all possible.
Susan Ford, President
Our Kitchen & Culture, LLC
http://louisiana.kitchenandculture.com
PS: Place your gift subscription order today. Call us at  504.208.9959 or go on line. Your gift will arrive in time for Christmas.